Miguel Tejada Is Not Cal Ripken Jr.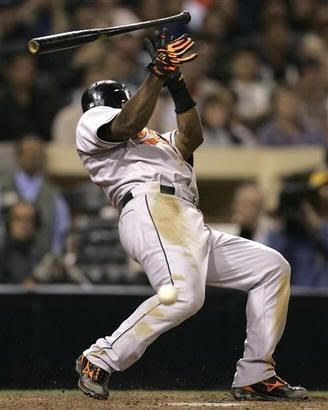 It got overlooked on Thursday what extreme measures Miguel Tejada took to keep his consecutive games streak going. He bunted in one at-bat and then left the game. Completely bush league if you ask me. Check out my post at FanHouse to read about it.
While you're over there, check out this story on a Padre fan making it rain. And here's some other reading material to keep you busy:
Loser With Socks did a follow-up piece to my rankings of the Bengals arrests. Now, they have ranked the Florida Gators arrests, and my, is it a fantastic list!
I told you Wednesday about Johan Santana making Bert Blyleven go bald, now SPORTSbyBROOKS has the video of it.
Yesterday I told you about the bear that Lions coach Rod Marinelli wrestled. Today, 100% Injury Rate has done some research and come to find out that the bear is actually pretty famous.
Wasting Company Time has lots of pics of Posh to keep you occupied.
(photo courtesy AP/Lenny Ignelzi)