Skater Patrick Beckert Misses the Cell Phone Call of a Lifetime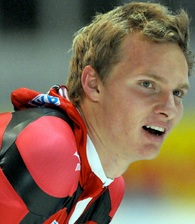 German speedskater Patrick Beckert might not be close to the top of his field but he's good enough to be an alternate at the Winter Games in Vancouver. The poor guy hit some bad luck on Wednesday when he got a call to replace Italy's Enrico Fabris in the men's 1000m race. He apparently didn't receive notice until 15 minutes prior to the race, leaving him too little time to make it to the hall. What's the reason for the late notice? Beckert had his cell phone off. Beckert wasn't the only skater with bad luck — he was the fourth alternate meaning they couldn't get a hold of the other three!
I'm not saying Beckert would have come close to medaling, but you never know what can happen when people are racing in close quarters — falls happen. Americans Shani Davis and Chad Hendrick wound up winning two of the three medals in the event, from what I can tell meaning Beckert just recently revealed the sad news. At least he didn't screw up as badly as Sven Kramer, and now he knows to keep that celly on like a doctor with a beeper. Thanks to Bild and NBC's blog for the story.