Seattle Seahawks players have been one of Jimmy Fallon's favorite targets. On Friday, they got their revenge.
One of the regular features on Fallon's Tonight Show is a segment called Superlatives, in which Fallon assigns a high school yearbook style superlative to someone based on their picture. Seahawks players have been a frequent target of the segment, particularly Marshawn Lynch.
On Friday, it came time for the Seahawks to get Fallon back by assigning their own superlatives to him. In a video posted to the team's Youtube channel, several of Fallon's previous targets got their shots in, including Jon Ryan, who acted as if he'd never heard of the late night host.
Fallon presented an abridged version of the video on Friday night's show (the full version is here).
As usual, Marshawn Lynch steals the show. Some of those were downright vicious, too.
H/T SB Nation
By now, we've all seen the ridiculous photo of Gabrielle Union, Dwyane Wade, Chris Paul, and LeBron James astride a banana boat while on vacation in the Bahamas last week.
LeBron, D-Wade and CP3 enjoy the offseason together on a banana boat: http://t.co/oAUEdIsJLd pic.twitter.com/EKc9MFOb0u

— Complex Sports (@Complex_Sports) July 7, 2015
Now, just like he denied Tiago Splitter at the rim in the 2013 NBA Finals, James is denying ever making an appearance on the plantain vessel.
Appearing on The Tonight Show with Jimmy Fallon Tuesday night, the two-time NBA champion playfully rebuffed the notion that it was actually him in the infamous picture, claiming instead that he was Photoshopped in.
Fallon pulled out the glorious candid on the air and showed it to James asking, "This is not Photoshopped, right? That's you right? On a giant banana."
"Someone Photoshopped that," LeBron replied. "That is not me. That's Gabrielle Union, that's Dwyane Wade, that's Chris Paul. But that's not me. I was back home in Akron, Ohio when this happened. We don't have water like that back home."
Sure, whatever you say LeBron. The 4-time MVP would then proceed to engage in a friendly game of Faceketball with the late night host.
After recently admitting that he gets nightmares about the Cavs' Finals loss to the Warriors last June, it turns out that the absurd banana boat photograph, Photoshopped or not, will haunt James even further in all its ludicrous horror.
H/T Rolling Stone
Jimmy Fallon committed the cardinal sin of ducking when a fall ball came his way while he was sitting behind home plate at the New York Yankees game on Thursday night. Like all other spectators behind the plate, the late night talk show host was protected by a net.
Fallon reacted so hard that his Yankees cap came flying off his head. To his credit, he realized how dumb he looked and pounded the rest of his beer to make up for it.
If you're gonna be one of those people, at least own it. That's exactly what Jimmy did. Was there some spillage? Sure, but the effort was there.
You can add that moment to what is quickly becoming a collection of beer great stories involving Jimmy Fallon.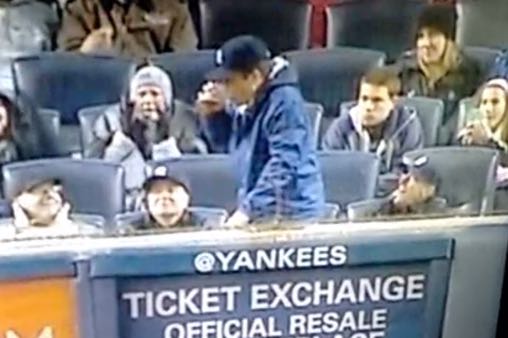 Jimmy Fallon unveiled some of his best work to date on Wednesday night when he got the cast of "Saved by the Bell" back together for a fantastic skit. The awesomeness of the reunion overshadowed a great story that he and Kobe Bryant told together.
Bryant, who also appeared on Wednesday night's show, apparently goes back a long way with Fallon. When Kobe was a rookie in 1996, he and Fallon were at a party together in Los Angeles. Since they were "nobodies" — as Kobe put it — at the time, someone asked if Bryant could make a beer run for the party. Fallon went with him.
Not knowing anything about the LA area, Kobe and Fallon went to Pink Dot to try to buy some beer. Pink Dot is a grocery store that only delivers food and beer, so they were almost out of luck. Of course, Kobe flashed his ID and said he played for the Lakers and the store took care of them.
The best part? Kobe was either 18 or 19 at the time. It obviously didn't matter.
Between the beer run story, the "Saved by the Bell" reunion and revealing the new cover of the 2015 Sports Illustrated Swimsuit Issue, Fallon had himself a banner night.
H/T Jimmy Traina's The Big Buzz
You know Jimmy Fallon is doing some awesome things when he makes it onto this here sports blog two days in a row. And awesome things is he a-doing!
Fallon got the cast from "Saved by the Bell" to reunite for an 8-minute scene on his "Tonight Show" Wednesday. Fallon's been working for over a year on getting the cast together, and he finally pulled it off. It was perfect.
They incorporated all of the trademarks and viral moments from the show into the skit: they got Zack Morris' phone; his "time out"; Jessie Spano's I'm so excited spaz out; A.C. Slater's ballerina dance; Mr. Belding on the intercom and his 'hey, hey, hey, what is going on here.' It really couldn't have gone any better.
The two notable absences were Lisa Turtle and Screech, but given Screech's recent history, it's just as well that he wasn't around.
Thank you, Fallon, that was awesome! And someone please help Belding — was that Dennis Haskins or the ghost of John Candy? I'm not sure.
What happens when you get Chris Pratt and Chris Evans together with Jimmy Fallon for a bunch of photobombs? Pure awesomeness.
The two actors teamed with the "Tonight Show" host to photobomb a bunch of fans who were posing for pictures at the Super Bowl, and the results were fantastic. The video has over one million views on YouTube, over 16,000 likes, and fewer than 50 dislikes, just to give you an idea of how enjoyable it is.
Watch it. We promise it will make you laugh. Here's one sample of it:
Detroit Lions tight end Joseph Fauria made headlines over the weekend when he busted out an 'N Sync touchdown dance. The rookie out of UCLA scored the go-ahead touchdown early in the second quarter and followed it up with the dance move from the former boy band's "Bye, Bye, Bye" music video. As it turns out, he wasn't only doing it for kicks.
A couple weeks back, Jimmy Fallon and Justin Timberlake brought us a new skit they called the "Evolution of End Zone Dancing." After it debuted, Fallon offered to donate $10,000 to the Make-A-Wish Foundation in honor of the first NFL player to do the 'N Sync dance during the game. On Tuesday night's show, Fallon confirmed that he will be making the donation.
[Video: Jimmy Fallon, Justin Timberlake bring us 'Evolution of End Zone Dancing']
"We were going nuts," Fallon said. "We all saw it on Twitter. We were going crazy."
Former 'N Sync member Joey Fatone also shouted out to Fauria after seeing the end zone dance.
@BigJoeFauria my man !!!! Nice moves !

— Joey Fatone (@realjoeyfatone) September 23, 2013
The dance was funny enough in itself. The fact that Fauria did it to send $10,000 to a great cause makes it even better.
Related: Is this the best sack dance of the 2013 NFL season?
pixel2