Venus Is Gone, That Didn't Take Long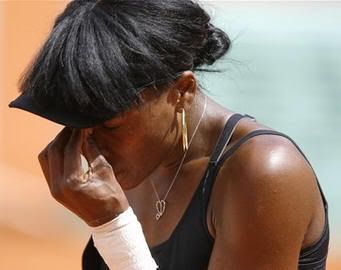 Let's see, your quick French Open recap as the first week almost comes to a close, Andy Roddick lost in the first round, James Blake lost early, and Serena's looking nasty as hell. And now we can add Venus Williams to the list of players to bid France a quick adieu. Williams no. 1 got dropped by Jelena Jankovic 6-4, 4-6, 6-1 in the third round. Perhaps all you need to know about the match is that Jankovic was seeded fourth in the tournament. When you're facing a four seed in the third round of a 128 player tournament, that means you didn't have much respect coming in.
It's the third tournament of the year that Venus has lost in the third round, and she's only played in seven of them so far. It's also the fifth straight Grand Slam in which she's failed to get past the quarters. Think she's fallen? I'd say so. It's been about five years now since Venus was consistently reaching the finals of Grand Slam events. Now, she's lucky to win four matches in a row. Yeesh.