Aaron Rowand Hurt Himself Playing Tag. Seriously.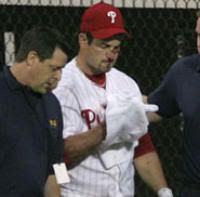 Baseball injuries are great. Some of the best ever. You might have serious ones like Miguel Tejada getting hit by a pitch and breaking his wrist. Or you might have lame ones like Raul Ibanez injuring himself while sleeping. Or, you might even be lucky enough to come across one like this. From Matt Watson at FanHouse:
The Phillies also were without All-Star center fielder Aaron Rowand for tonight's game against Pittsburgh. Rowand said he "tweaked" his left shoulder while playing tag with neighborhood kids, and was listed day to day.
I just can't even find the words to properly respond to this news. Usually when we read about a lame injury, it's an excuse because the player is hiding the truth. You know, like Jeff Kent breaking his wrist while riding a motorcycle, not washing his car as he said. I can't even imagine what the real cause of the injury was. But I'll be damned if this isn't the most creative excuse ever by a player. Truly amazing.
Freaky Baseball Injuries:
Raul Ibanez Hurt Himself Sleeping
Miguel Tejada's Broken Wrist Ends His Streak