Did Brian Cashman Want Jason Giambi to Go Back on Steroids?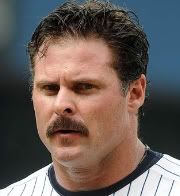 I know Jason Giambi and Brian Cashman won't ever mention the word, so I will — steroids. Jeff Pearlman has written a book about Roger Clemens called "The Rocket that Fell to Earth," and in that book there was a good anecdote about Yankees GM Brian Cashman and his thoughts on Jason Giambi, a free agent he signed to a 7-year $120 million deal prior to the '02 season. According to the NY Times:
The book said that when Giambi went through a slump in the 2002 season, his first with the Yankees, Cashman was heard yelling at a television in the Yankees' clubhouse during a game. Citing "one New York player," the book said that Cashman screamed, "Jason, whatever you were taking in Oakland," get back on it.

The book said that Cashman then added, "Please!"
Cashman denies ever making that statement while Pearlman says he has 100% confidence in the source that told him the story. I might have a question or two about this story because '02 was Giambi's only true excellent season with the Yanks. But I feel bad for Cashman in the sense that he paid for a guy whose productivity was achieved through false means. I think that GMs were in a tough spot to judge talent all throughout the era and that they got screwed over by players. If guys got their contracts because they were juicing and then later went off, they were selling teams a bum product. I can't blame a GM for wanting to see the player produce like he had before and therefore understand Cashman's predicament if this is a true story. Would it even be possible for teams to sue players who tested positive? I'd love to see the Angels recoup some of that Gary Matthews Jr. money without a doubt.