Joe Morgan: Chase Utley Could be Best Hitting Second Baseman Ever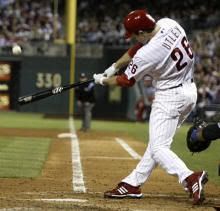 Yeah I know, I almost fell over in my chair after hearing none other than Joe Morgan utter those very words on Sunday. Morgan — the same guy who is so egotistical he placed himself in the middle of history to brag about something he never did during his career — actually doled out a compliment on Sunday. To a second baseman. To someone who doesn't play for the Reds. To a present-day player. Imagine that! This is also the same Morgan who I'm told by Chicago-sports connoisseur Lance Johnson, upset Cubs fans by failing to give Ryne Sandberg credit. Perhaps Morgan's turned over a new leaf. I don't have the actual quote, but after Chase Utley hit his second home run of the ballgame on Sunday to make it Utley 4 and the Mets 0, Morgan said that Utley may end up being the greatest hitting second baseman ever.
That's right, Joe Morgan thinks Utley could be better than Morgan himself was! Joe really outdid himself, absolutely gushing over Utley. As the replays continued to show yet another moonshot by Utley, Morgan raved: "he's got a beautiful stroke … what a beautiful swing … great hands." Seriously, it was like Morgan wanted to mount Utley after the game for a post-game celebration if you know what I mean. I don't know what got Joe so off-hinged, but he's right — Utley could wind up being the best hitting second baseman of all-time. Right now that honor belongs to Jeff Kent, but the way Chase is going, the title will be his. Utley's just the best all-around hitting second baseman we've seen — simple as that. And Joe actually complimented him! Isn't that crazy?
By the way, if you're a parent, that is exactly how you want your kid's swing to look; it's text book.