Ned Colletti Explains How the Manny Ramirez Trade Went Down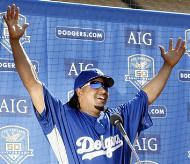 The Manny Ramirez acquisition has been one of the most intriguing story lines the Dodgers have had in the past 20 years, no doubt about it. The fan response has been incredible, with merchandise and ticket sales exploding, and for good reason. ManRam has been crushing the ball since coming to Los Angeles and figures to keep driving runs in like usual. One of the questions that really was yet to be answered was the how. As in, how exactly did the Dodgers wind up getting Manny at the deadline? Ned Colletti joined Peter Brown on Sporting News Radio to explain how the trade got done:
I had talked to [Red Sox GM] Theo Epstein the night before [the deadline] on a different matter, on different players, and sent him an email with a response back to that conversation at night and wished him well with the reported three-way that everyone was talking about. I left it at that, went back to where I live and took a nap for a while, got up early, checked the email, and there was a note there from Theo thanking me from the note. But he didn't sound real positive suddenly. I went into the office, worked a few hours, called Joe Torre at 8am and brought him up-to-date on some other talks we had on other fronts, and told him it was kind of interesting that the Red Sox, Pittsburgh, Florida deal had not come to fruition. And I was wondering if we might be getting a call at some point in time so I wanted him to start thinking about it.

A couple hours later, Theo called me and we started talking about it and I wanted to make sure it was a serious nature because we had maybe three to four hours left before the deadline was going to slip past us and I didn't want to waste much time on something that wasn't of a serious nature. Theo guaranteed me it was serious and we kept talking and we sort of knew we had to satisfy Pittsburgh. I had conversations with them for the last six months on a variety of players and so we were able to satisfy Pittsburgh a couple minutes before the end and we were able to pull it off.
OK, that's the nuts and bolts of the timeline for the trade, but Ned gets into even more good stuff, explaining for instance who in the Dodgers' organization was in Manny's corner:
I have two players that we have in uniform right now in Nomar Garciaparra and Derek Lowe that were teammates of Manny's, and also Grady Little who managed us last year always spoke fondly of Manny. And Bill Mueller who's a special assistant to the GM here, whenever I brought Manny Ramirez's name up to Bill Mueller, he said 'lemme tell you something, this guy is a great guy on our club, he's a great teammate, and he's one of the best hitters we'll ever see. If we can get this man in and deal with him in a straight-up way, we have a chance to have something here be very positive and also have the impact on the field we're looking for.'
Well, nice to see Mueller's finally earning that $9.5 million he stiffed the team on. It was also interesting to note from Colletti that he acknowledged the team was pretty much too pitching reliant to win without if they hadn't made that move. And hark! The Manny Ramirez love affair continues!