Way to Aim High, Omar Minaya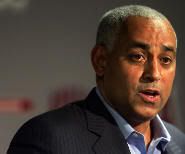 I understand the Mets had an absurd and unfortunate amount of injuries last season — to their key stars no less — and that rendered them uncompetitive in the division. But are you really telling me that Mets baseball has been reduced to the low expectations set forth by their own GM? In a comment appearing in Jon Heyman's Friday column on SI, Mets GM Omar Minaya encapsulated what's wrong with him and the organization in only two sentences:
"St. Louis is always tough. If we can win two out of three, that will be outstanding. If we win one, I'll take it. We've got Jose [Reyes] back, and once we get [Daniel] Murphy and [Carlos] Beltran back, we can compete with everyone else."
As fantastic as Carlos Beltran is, you still should set your standards higher than winning only one of three games in a series. Sure, St. Louis was starting Cy Young contenders Chris Carpenter and Adam Wainwright in two of those games, but it's not as if Carpenter was dominating (until he faced the Mets Friday), and it's not as if the Cardinals' bullpen is untouchable. Plus, they have Johan Santana pitching in one of their games; why shouldn't they expect to win more than one game in the series? It's absurd to think these are the expectations for Mets baseball nowadays and it shows why Omar needs to go. At least if fired he'll have plenty of time to shop for Prada shoes.
Thanks to HardballTalk for the story, even if they improperly attributed the quote to manager Charlie Manuel.
Sources:
It's only April, but Manuel's seat with Mets is already getting warm [Jon Heyman SI]