Ozzie Guillen Is a Hall of Famer Part II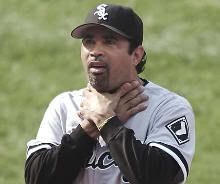 There was a time and day when I couldn't stand Ozzie. He was loud, crude, and obnoxious. He was out in front of the team, the center of attention on a World Series champ where I felt the players deserved the attention. I despised that. But now that time has gone on, I've grown to love Ozzie. I've realized how genuine, amazing, and special he truly is. Not many people say what they think and not many people can do what Ozzie does. And man, god bless Kenny Williams for keeping Ozzie employed. I don't know what baseball will do without him. Anyways, Ozzie got off one tremendous rant on Chicago bleeping fans Sunday morning and it was priceless. Read it after the jump, because it is LONG.
That's what ticks me off about Chicago fans and Chicago media: They forget pretty quickly. A couple of days ago we were the [bleeping] best [stuff] in town. Now we're [bleep]."
…
"We won it a couple years ago, and we're horse[bleep]," Guillen said sarcastically before the Sox (14-15) lost to the Blue Jays 4-3 and fell below .500 for the first time since April 3.

"The Cubs haven't won in [100] years, and they're the [bleeping] best. [Bleep] it, we're good. [Bleep] everybody. We're horse[bleep], and we're going to be horse[bleep] the rest of our lives, no matter how many World Series we win.

"We have the worst owner (Jerry Reinsdorf). The guy's got seven [bleeping] rings, and he's the [bleeping] horse[bleep] owner."
…
"How about the Cubs celebrating that Lee Elia bull[bleep]? How many times do I curse people out? I will make a lot of money with my [stuff]. I have to keep going because in the future Ozzie will need money, and I can say, 'Here, give me money, here's the 10-year anniversary of my time I called [Jay] Mariotti stuff and the time I went on the radio and cursed out Mike North.'
You know what, Ozzie? You will have a place to go after you're done with the White Sox … Cooperstown. The Hall of Fame will be calling. Ozzie Guillen: a living legend. Embrace it.
Oh, and about the town, he's right. Far as I can tell it's all about the Cubs — the lovable losers. People really don't seem to care as much about what the White Sox do even if they're winning titles. That's just the way it is. The Angels, White Sox, and Mets will never compare to the bigger teams in their towns no matter what they do, and I think the players know it. That's why Ozzie is the quintessential White Sox representative — he'll always make sure the Sox are heard from.