The Phillies Are a Sad Story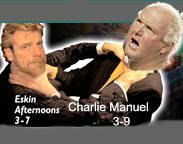 First manager Charlie Manuel challenges radio talk show host Howard Eskin to a fight, then Brett Myers gets moved to the bullpen, and now it appears as if last year's NL MVP, Ryan Howard, might be hurt.
Let me put aside the obvious problems with Manuel losing his emotional cool and getting outraged at a radio talk show host. The team decided that they could get better use from their best starter of the past few years, even if he's an alleged wife beater, out of the bullpen, where he won't even be the closer as long as Tom Gordon's healthy. Right, because 65 innings out of your top pitcher is much more valuable to the club then 200 innings. I see.
Now, forget about the fact that Ryan Howard has been in a slump since Spring Training. We all know that Ryan Howard is capable of blasting 58 home runs in a season, all the while carrying a club to the playoff doorstep. So when news comes out that he'll need an MRI, it doesn't bode well for the club. And check out the comments from Shane Victorino following Wednesday night's loss to the Nationals (5-10 Nationals!)
"Everything is bitter around here … Sometimes you'd rather just walk out there and lose by 15 and walk off the field in the ninth. It's so frustrating. We're one hit away, we're one pitch away. It seems like we're one thing away from doing what we need to do, and it's just not falling into place."
Everything is bitter around here — such is the sports world in Philly — so I'm told. Look, the Phillies aren't 3-10 bad. They really aren't that bad in general. But they're certainly not a playoff team, especially with Myers in the bullpen, and Ryan Howard on the DL. Still, one last time, how can you move your best starter to the bullpen and expect to get better? What kind of sense does that make?
(thanks to The 700 Level for the pic)
UPDATE: Must see DC Sports Bog for more Manuel madness.