Even Tiger Woods Knows Yankee Stadium Priced Their Tickets Too High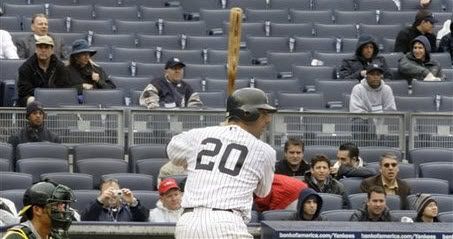 According to SI.com's Fortunate 50, Tiger Woods pulled in $100 million between winnings and endorsements and that was in a down economy. To him, spending $100,000 is like us spending 50 bucks on dinner and a movie. That sort of ridiculous bankroll means Tiger has no idea what real expenses are like. But apparently Tiger's not blind and even he can see that Yankee Stadium is filled with more empty chairs than bodies in the field level because the tickets were priced too highly. He made a reference to that notion when he explained why the AT&T National that he's hosting in Bethesda is letting in kids under 12 for free:
"We don't want to have what happened at Yankee Stadium," Woods said. "Tickets are so overpriced that you can't bring the family. We want to have everyone come out and enjoy being in a family atmosphere, walk around, have a good time and not have it cost an arm and a leg."
This isn't exactly a revolutionary practice considering the U.S. Open had the same policy and apparently the British Open's been letting kids in free for quite some time. Still, it's nice to finally see people making efforts to have sporting events become more affordable. The corporate game has ruined things for the real fans, relegating them to the cheap seats or the living room. If you're not out there trying to build a $1.5 billion monstrosity, then this wouldn't be a problem. The old Yankee Stadium seemed to be just fine to me and sell out without any problems. Oh yeah, and you think Tiger speaking up like that has anything to do with the heat he took from Jim Brown recently? I'd be inclined to say "yes" to that.