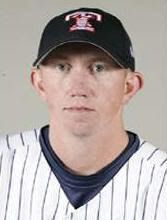 It's not like I follow the daily happenings of the Toledo Mud Hens, but this story of exemplary team chemistry was emailed to me and it's too good to ignore. Funny thing about Mud Hens stories is that I usually recognize at least one of the names of the people involved, since they are a minor-league affiliate of the Tigers (last time I checked).
The wife of fellow player Jason Karnuth filed a report with the Toledo police department after her husband was injured June 12. The report alleged that Mr. [Roman] Colon punched Mr. Karnuth when Mr. Karnuth was trying to break up an argument.
…
The report said Mr. Colon and Hens pitcher Virgil Vasquez were arguing in the clubhouse before the Hens' game against Norfolk, then Hens pitcher Jordan Tata and Mr. Colon began to argue. Mr. Karnuth, a three-year veteran of the Hens, tried to break up the fight when Mr. Colon punched him in the face, the report said.
The report also says that Colon could face up to eight years in prison if convicted of one count felonious assault. Yeah, like that's gonna happen. The natural question is if Colon's punch was intentional or accidental. I dunno, but I take one look at the Karnuth character's mug and I have a pretty good idea.
(photo courtesy Toledo Blade)
Google+