Gilbert Arenas Marrying Girlfriend Laura Govan After Seven Years Together
ALSO SEE: Laura Govan's alleged affair with Shaq results in O'Neal divorce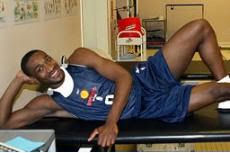 Agent Zero may have had his run of awful news lately — three knee surgeries in the last two seasons — but at least he's going to bookend it with some good news. Gilbert Arenas will be marrying girlfriend Laura Govan, as he got engaged over the weekend. For some background info:
"Life is about growth and getting smarter about the choices we make," Arenas said in an e-mail. "Being a husband and father will require both of those!"
…
They met in 2001, when he was a Golden State Warriors draft pick and she was doing PR for the Sacramento Kings. They split two years later but clearly stayed in touch: He was by her side when she delivered their daughter, Izela Semaya, in December 2005. And then a messy paternity dispute — lawyers, ducked subpoenas, the whole catastrophe — that they somehow worked through. He moved her to NoVa in '06, and in March '07, she had his son, Alijah Amani.
Gilbert has said before that he was off the market, so I'll guess he was referring to Laura. The sad thing is Gilbert won't be able to throw any blowout parties in his Playboy pool as a bachelor. What's the point of having a pimped out pool like that if you can't use it to your advantage? And one question: when he does get married, will Gilbert be hobbling to the alter on crutches?