Iranian Center Now the Grizzlies' Haddadi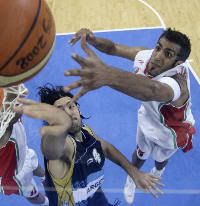 Deadspin had the story recently that Iranian center Hamed Haddadi would not be able to play in the U.S. unless his club got a license to negotiate with one of our teams. Apparently someone's jumped through those hoops, because the 23-year-old Iranian has signed to play for the Grizzlies:
Haddadi, 23, led all Olympians in rebounding and blocks during pool play. The 7-2, 254-pound center was a free agent. Several NBA teams were interested in him, but recent media reports in his native country quoted Haddadi saying that he would sign with the Grizzlies.

The Griz wouldn't release terms of their agreement with Haddadi, but he signed a multiyear deal that is equivalent to that of a mid-first-round draft pick, according to sources.
Mid-first-round pick money? That's not bad at all. They obviously expect him to produce along the lines of one of the Lopez twins if they're paying him that type of money. Considering how well Haddadi played against Argentina in the Olympics — a team featuring a handful of NBA players — there's no reason to think he couldn't play in the league. And in case you were wondering, Haddadi will become the first Iranian to play in the NBA. What barriers aren't they crossing these days? Basketball is truly becoming a global game.