Riley, Wade, Shaq Are Feeling the Heat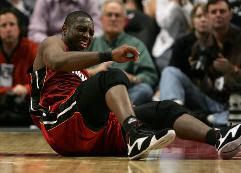 The jersey's unraveling by it's thread and nobody wants to admit it. Miami's already lost Game 1 of the series, and the Heat are searching for answers, with Pat Riley taking D-Wade to the woodshed:
'I'm not going to give him a pass," Riley said of Wade. "He did not do the job defensively that he had to do. And we just have to face that fact."
Clearly D-Wade is feeling the pressure as well:
"Coach [Pat Riley] expects the world out of me," Wade said Sunday. "He expects more out of me than anybody probably ever expected.'
Make no mistake about it — the Heat rode Wade's hot performance to the title last year. But that magic doesn't appear to be happening again this year. Luol Deng blew up the spot with a playoff career high 33 on Saturday. Shaq being the sore loser that he is, was bitching about the refs, blaming them for the Heat's loss. Miami still has plenty of room to turn it around and make a run, but a run won't get them to the finals this year. And if they do make the run, it will be because of Shaq (who needs to stay on the court), not Wade.