Shaq's Wife Now Wants Him Back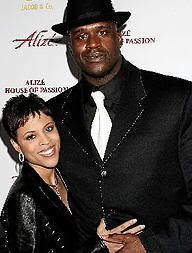 If there's anything we've learned from the story of Shaq's marriage and pending divorce, it's that everything is going ass backwards. For instance, there were reports out there that Shaq was pissed his wife was being cryptic with his money, and that she potentially was nailing her personal trainer on the side. Now we're finding out that Shaq's wife has come to her $enses:
Like a lot of his NBA's foes, Shaquille O'Neal's wife is holding onto the Diesel for dear life, telling him in court papers that she doesn't think their nearly five-year marriage is "irretrievably broken."
…
Shaunie O'Neal also slam-dunks any notion, as Shaq had alleged in his own divorce petition, that she was "secretive" about her assets and also says she hasn't done anything "untoward with assets or monies" that belonged to Big Daddy.
This entire situation is just hard to comprehend. We always hear rumors about ballplayers screwing around on their wives, but never the reverse. And come on, of all people, Shaq getting cuckolded? Like I said, seems like the woman has realized what's best for her.