Josh Pastner Still Recruiting from the Delivery Room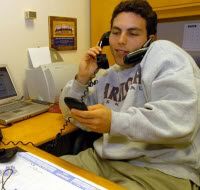 If you ever wonder how a guy becomes a head coach of a good basketball program like Memphis at the age of 31, Josh Pastner has the answer. Pastner's recruiting efforts and excellent work ethic have helped him jump to the front of the crowded coaching field. His dedication was on display last week when his wife was giving birth to their first child. As explained by an article in the Memphis Commercial Appeal via Sports by Brooks Live, Pastner was still recruiting while in the delivery room:
Pastner did take his cell phone into the delivery room. But he had it on vibrate. That's progress, right?

"I had to keep in touch," he said.

OK, but did you call any recruits?

"I did," he said.

So much for progress.

"I also told them where I was calling from," he said.
Some people might view that as dedication whereas others might see it as sickening. That's the kind of work ethic that gives guys like Urban Meyer serious health problems. The Memphis people have to be proud of this story, you just hope that Pastner doesn't wear himself out. If there's ever an occasion to take a few moments off, that probably was it.
Sources:
Diaper dandy changes Pastner lineup [Memphis Commercial Appeal]
SbB Live