Tim Floyd: Talented O.J. Mayo Was Not Bought for $1,000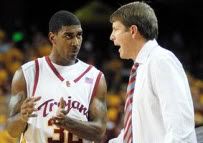 After laying low for several months since being fired by USC and seeing the Trojans self-impose sanctions on the basketball program, Tim Floyd re-emerged on the college scene by accepting the head coaching gig at UTEP. Though he's declined to comment on the O.J. Mayo case, he did offer up a few nuggets that have me scratching my head. Here's what Floyd apparently told Maryland coach Gary Williams on SIRIUS Mad Dog Radio when asked if he'd recruit Mayo again:
"Yes, absolutely. Because O.J. is a very good person and a very good player. There is an underground economy in the sport. And I'm not saying anything about the case. Nothing about the case. But if anybody thinks that O.J. Mayo, with his talents, was bought for $1,000, you're out of your damn mind. That's absolutely preposterous."
OK, so Floyd shared something that we all know — there's an underground economy where AAU coaches, high school coaches, runners, and players are getting paid off by agents and boosters to have players directed to certain schools and "advisers." That's nothing new. What I don't understand is his contention that O.J. Mayo was not bought for $1,000 (the amount he's been accused of paying a Mayo associate). What is he implying, that a player of Mayo's talents costs much more? Does $1,000 only buy Marcus Simmons? Does an O.J. Mayo will run you six figures? Seven? Come on, Tim, you're not making any sense here!
Sources:
Tim Floyd: 'I'm going to come out on the good end of this' [USA Today]