Les Miles Showed Up Georgia Tech in 4th Quarter of Bowl Blowout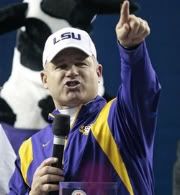 LSU crushed Georgia Tech with ease in the Chick-fil-A Bowl, 38-3. The team was up 35-3 at the half after outscoring the Yellow Jackets 28-0 in the 2nd quarter, getting short fields on several Tech turnovers. The vaunted Georgia Tech triple option was held in check almost the whole game, with LSU smothering them all night long. So when the 4th quarter rolled around and LSU was hammering Tech 38-3, I had to wonder why they continued to throw deep passes and run trick plays. On two occasions in the 4th quarter, LSU threw deep passes — one fell incomplete. They also had the gall to run a trick play on special teams:
As if to affirm its mastery of special teams, LSU pulled off a successful fake punt in the fourth quarter, with punter Brady Dalfrey running for 21 yards for the first down. LSU led 38-3 when coach Les Miles called for the fake, and Georgia Tech fans booed the decision.
It was a well-designed play that did further delineate Miles' special teams genius. Problem is, what are you running that for in a 38-3 game in the 4th quarter? Save it for when you need — a close game. I really thought some of Miles' tactics were unnecessary. Does he have some bad beef with Paul Johnson of which I'm unaware? Sure seemed like it. I hope these teams meet again so Georgia Tech has the chance to turn the tables.