Pete Carroll Should Not Go to Atlanta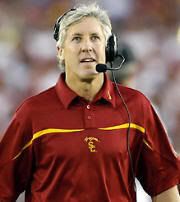 Much like I said about Cam Cameron last week, coaches looking to make jumps need to ponder the situation they're going to. Some people get so blinded by the thought of a promotion that they go to a bad team, perform poorly, and get canned for good. I'm not saying that Pete Carroll wouldn't be able to turn around the Falcons or that he wouldn't get another head coaching offer if he failed in Atlanta, I'm just saying it's not a good situation to walk into.
In Atlanta, you have no quarterback, and not too many playmakers on defense. Though they're in a good spot under the cap, they don't have too many weapons to speak of. Additionally, you'd be working for Arthur Blank whose nose seems to be in the middle of all the football business. I highly doubt Carroll wants that around. Sure it would be good money, but why would it be worth it? What's Atlanta going to give him, four years to turn it around? That's about how long it would take — four or five to be fair. I don't know if Blank would have that patience, or if Carroll would either. Not to mention, Carroll would go from being a top college coach to being a loser, or at best, mediocre in the NFL with the Falcons. Why would he want to do that?
I just do not see how it would be in Pete Carroll's interest to leave USC for Atlanta. He has it made in So Cal. The alumni love him, he dominates the Pac-10, and he has a great recruiting base. His squads are perennial national title contenders that always receive respect from pre-season voters. I'm not sure exactly how much he makes, but I'm sure he's living comfortably. Money can be enticing, but the situation would have to be the selling point for me if I'm Pete Carroll trying to prove I can win in the NFL. It's the situation, not the money, that's most important.