Teams Fear Hawaii, Fear the Rainbows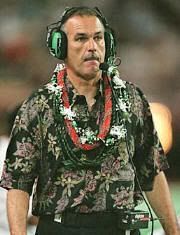 Let me say upfront that I'm a June Jones for several reasons. For one, he's a really nice guy. Secondly, without June Jones, there would be no Timmy Chang. And lastly, because he gets off some great lines, such as this:
"Teams don't want to make the trip anymore," says Hawaii coach June Jones. "They come here, we kick their ass, they go home."
…
The NCAA allows Hawaii to play 13 games and allows mainland teams an exempt game for playing at Hawaii. The Michigan State game was the 13th game, and now Hawaii has only one BCS opponent, which isn't enough to legitimize its schedule.
Well that's an utter shame. June Jones man, now he is great. Straight up saying we kick everyone's ass and then send 'em home. Fantastic. Tell us how it really is why dontcha? Think about it though, would you want to go to Hawaii? They're a good team that sneaks up on you. They'll assault you with 400 yards passing and like 5 aerial touchdowns on the Island. They rock at home. I wouldn't want to go there. Would you? Of course not. Unless you're on vacation. And therein lies the unfortunate problem. June Jones though, Hall of Famer.
(via Fark)