USC Losing Leverage, Gaining Humility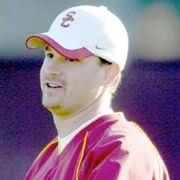 There were three events that occurred over the past two days that signified a change for USC's football program. Things first started when coach Pete Carroll left for Seattle, leaving a gaping hole at the head of the program. Carroll was replaced by Lane Kiffin who departed Tennessee for So Cal to help calm the uproar amongst Trojan fans. While Kiffin and the USC program believed they would not be impacted by the NCAA investigation regarding their recruiting violations, it turned out they were wrong; the program got docked 30 scholarships over three years and two years of bowl games. Three key events have taken place since that indicate USC has lost its leverage and gained humility.
First, Minnesota-based offensive lineman Seantrel Henderson was released from his letter of intent. The nation's top offensive lineman recruit felt deceived by the Trojans coaching staff regarding the potential sanctions. Seantrel did not show up for summer school leading USC coaches to fly out to meet with him in Minneapolis on two occasions. As we initially reported at LBS, USC did not want to release him from his commitment, but the negative press and potential future backlash made the Trojans coaches realize it was a smart business move to release Henderson.
Also on Tuesday, defensive end Malik Jackson announced his plans to transfer from USC. The NCAA is allowing juniors and seniors to transfer without penalty because of the sanctions and he's taking advantage of the opportunity to gain more playing time elsewhere. Ordinarily this would not seem like much, but the irony is where Jackson is going — Tennessee — the same place the Kiffins and Orgeron left, illegally recruiting players on their way out. Although this move makes USC's roster look more talented than Tennessee's, there is some sting in their former school poaching one of their guys.
Lastly, USC has apologized to five schools for erroneously accusing them of trying to illegally recruit running back Dillon Baxter. The schools that were accused include Alabama, Florida, Fresno State, Washington, and Oregon. Andy Staples of SI got a hold of the letter sent from USC AD Mike Garrett to Florida in case you're curious. This is a clear indication that the Trojans have been humbled.
Even though these events spell a change within the USC program, it should also be noted that they picked up a linebacker recruit on Tuesday. Additionally, USC apparently was turned down by Tennessee in an effort to schedule a game for 2011. I guess that tells you who the chicken is.
Sources:
Top recruit Henderson breaks commitment; DE Jackson to transfer to Tennessee [LA Daily News]
USC AD Garrett apologizes for false recruiting accusations [Andy Staples/SI]