When Todd Marinovich, a Needle, Spoon, and Meth Meet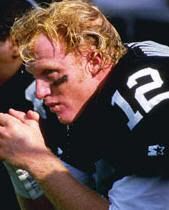 SPORTSbyBROOKS notifies us of the latest chapter in the sad story of former star quarterback Todd Marinovich. Attempting to skateboard in an area in Newport where it wasn't allowed, Marinovich was arrested for resisting police officers. Oh yeah, he was also picked up on felony drug charges too.
He was found hiding in a carport about 1:30 a.m., police Sgt. Evan Sailor said. After searching Marinovich, police found about one gram of methamphetamine, a metal spoon and a hypodermic needle, Sailor said.

Marinovich was charged with possession of a controlled substance, which is a felony, as well as unauthorized possession of a hypodermic needle and resisting a police officer, both misdemeanors.
When it comes to pissing away athletic careers, it's hard to beat Marinovich. Well, maybe Ookie has him handled these days. I tell you, it's a sad, sad story for Todd. Lesson be learned: McDonald's is good.