A-Rod and T.O.
Prior to the AFC Championship game against New England, Boomer Esiason said that "If [Peyton Manning] doesn't win on Sunday and doesn't get to the Super Bowl, he might as well buy a house next to A-Rod — Alex Rodriguez — because they're going to be living in the same neighborhood." Well, Peyton won that game – and followed it up with a Super Bowl victory – leaving A-Rod in the neighborhood of, well, T.O.?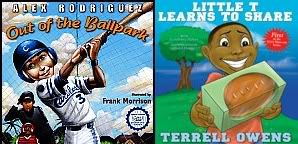 Thanks to Ben Maller who had shared this story with us yesterday from the New York Daily News, Alex Rodriguez has written an inspirational children's book about an underdog who makes it.
"Out of the Ballpark" follows a boy – appropriately named Alex – whose baseball team is playing in the playoffs. Alex, who is a second baseman, makes a key error in the game and begins to put extra pressure on himself. Only his play gets worse.
Just what you need Alex, more reason to fuel your critics' fire. Every time you fail on the field, references will now be made to your book and how you put time into writing that instead of concentrating on practicing in the off-season. Is the amount of children you may be inspiring worth the pressure you are now putting on yourself?