Browns in the Brady Quinn Business?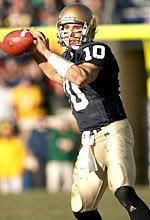 I guess the question kind of answers itself when your options are Charlie Frye and Derek Anderson, but for whatever it's worth, Browns head coach Romeo Crennel seemed especially impressed with Brady Quinn following the quarterback's workout at Notre Dame's pro day.  Crennel told the NFL Network:
The fact that he can make all the throw both right and left.  He's a polished quarterback, he's smart.  When you watch him on tape you see that he knows where to go with the ball and will at times throw it away when he has to.  So we think that he's a good young prospect.
I know all you Ohio natives will be saddened to hear your boy Charlie Frye probably won't have the starting gig next year, but sounds to me like the Browns and Crennel are pretty high on Brady. 
And you know what?  With the signing of Eric Steinbach, a healthy Braylon Edwards (and possibly Kellen Winslow Jr.) I actually think Quinn could fit in there nicely.  Yes, what I'm saying is that the Browns might be a decent place for him to go and succeed.  But then again, they are cursed, so maybe it's a bad idea.