The Cardinals Will Win, For God Is on Their Side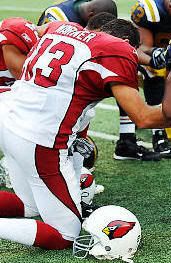 I'm all for guys looking for mental edges when it comes to competing on the field. If a player thinks he's going to win because he has one sock on inside-out, or because he watched his favorite movie the night before, or because he ate his special meal before the game, so be it. I have no problem with guys using mental ploys to try and gain an edge. The one exception I have is when it comes to religion. Why would God be invoked in a football game, particularly if players on both teams pray? Did some pray better than others? Or what about injuries sustained during the game, how are those accounted for? Kurt Warner's gratitude for Jesus is well-documented, and Ken Whisenhunt has gone so far as to say it gives them an edge, as pointed out by my boy Arnie Spanier:
Karlos Dansby, who along with Mr. Warner is one of about 15 Cardinals that attend chapel together before games, said "you have to put God first in everything you do."

Cardinals coach Ken Whisenhunt went so far as to say the religious nature of his team had helped them win. "I see it as a belief that mirrors our team," Mr. Whisenhunt said. "A team is about believing in something that is larger than yourself."
Much like Tim Tebow with Florida, the invocation of religion/Jesus/God to football games is too much for me. And how can Ken Whisenhunt agree that it gives them an edge? Is the opposing team getting shafted? Too bad these stories about the Cardinals have to get in the way of some really good ones on their, like the great deeds of Edgerrin James.