Joe Horn the Whiner is in Atlanta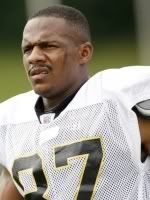 For a man who portrayed himself as such a hero in the wake of Hurricane Katrina's destruction of New Orleans, WR Joe Horn certainly tried his best to undo all the good he did back then (although that would be hard to).  Upon being released by the Saints, here's what he said
I just don't think [coach] Sean Payton wanted me back. I asked to be released because I felt betrayed by a head coach who wanted to prove he could win without Joe Horn.
What a dumb thing to say.  First of all, you weren't out there for six of the regular season games, you missed 38% of your team's games.  And guess what?  The Saints had their most successful season in franchise history! You know what that means?  Sean Payton already proved he could win without you. 
So now Joe Horn remains in the division, just now he's with the Falcons.  A couple of thoughts on that:
Too bad what seemed like such a good guy left on such poor terms
Horn's old and hasn't been able to stay on the field the last two seasons
His addition to the Falcons won't mean a thing — Vick still stinks, and Horn's too old to make an impact
Horn's addition to the Falcons is a total waste of money — and a lot at that — $7.5 million guaranteed over two years according to Horn.