Mike Tomlin Made the Right Calls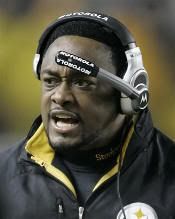 I can't stand how much heat Mike Tomlin has been getting for deciding to go for two point conversions late in the game against Jacksonville. With his team down 28-23 and about 10 minutes left in the game, Tomlin decided to go for two following a touchdown. This seemed like a completely natural call; they convert, they're only a field goal away from overtime. If they don't make it, they still need a touchdown to take the lead, just as they would if they kicked in the first place. Also consider that the Steelers hadn't been scoring much until that point, and that their defense had mostly stopped the Jags since halftime.
Wouldn't you know it, but the Steelers move the ball once again and score with about six minutes left in the game. Now up 29-28, they go for two a second time to try and make it a field goal game. They missed and still held the lead by a point. The game was then thrust into the hands of their defense which stopped Jacksonville's first drive. The Steelers offense didn't help matters by going three and out, giving the ball right back to Jacksonville. The Steelers defense had the Jags on the ropes but allowed David Garrard to convert a 4th and 2 which set up the go-ahead field goal.
The counter-logic says that Jags field goal would have only tied the game and sent it to OT had Tomlin decided to kick extra points following each touchdown. I disagree as I've said before; he was giving his team the best chance of winning late by trying to keep the game within one score. If his offense makes just one of the two conversion tries, much less stops the Jags on that 4th and 2, then his team wins and all is forgotten. Regardless of the loss, you cannot convince me that Tomlin made the wrong call.