Tony Romo Has a $30 Million Insurance Policy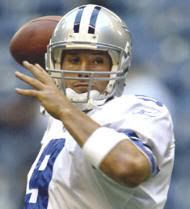 Sometimes you hear about wacky insurance policies. Is it true J-Lo has her butt insured? Does Josh Beckett have a million dollar arm? Did Regina George take out a policy to cover her hair? Did Borat get his baby maker umm … you get the point. So with Tony Romo awaiting a contract extension from the Cowboys that will pay him big bucks, he decided to take out an insurance policy to cover his ass just in case. From Adam Schefter at NFL.com, via Ben Maller:
Before the season, without anyone noticing, Romo took out a $30 million, "loss-of-value" insurance policy, meaning the Cowboys quarterback, now in the last year of his contract, will be cashing in whether he's healthy or hurt.

What's different and notable about Romo's loss-of-value policy — unlike the permanent-disability insurance policies numerous athletes have taken out over the years — is that he doesn't have to suffer a career-ending injury to get paid.
So even if the injury isn't serious, but adversely effects his performance, he'll cash some. I know Willis McGahee took out a policy prior to blowing out his knee, and that paid off. I'm sure there are many other athletes who have done the same. But damn, a $30 million policy? That's crazy. But I guess when you're with Sophia Bush, you feel like you're on top of the world.