Wow, Scouts Inc. Really Sucks at Mock Drafts
Which are pretty stupid to begin with (except for AA's), because all it takes is one trade and nearly everything becomes FUBAR. I'm just not a real big fan truth be told. So what happens to all those mock drafts once the draft has been completed? Usually everyone's busy breaking down who picked who, winners and losers, sleepers, and steals, and they completely forget to check up on the work of the mock drafters. Except for the guys over at Cold Hard Football Facts. Through the awesomeness of Ben Maller, I found out that CHFF tracked the picks of several mock drafts to see how they stacked up. And lets just say that Scouts Inc. sucked. And by sucked, I mean my three year old cousin could have done just as well. Check it out, with correct picks in bold (all courtesy Cold Hard Football Facts):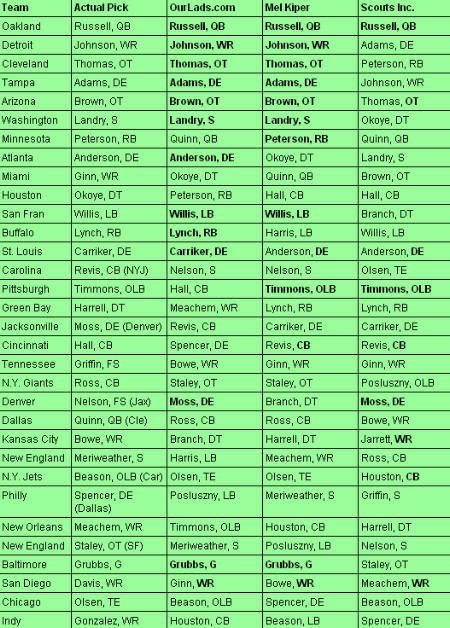 Hey, at least they got the JaMarcus Russell pick right! I have to say, I am impressed by Kiper nailing the first seven picks too.