Deion Sanders Thinks Ed Werder Made Up His 'Anonymous Sources'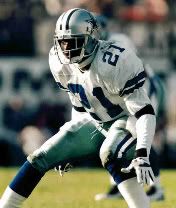 Ed Werder has been taking a lot of heat for his story during the season in which he said T.O. was jealous of Jason Witten's relationship with Tony Romo on and off the field. The story was based on an "anonymous source" that Werder never revealed. Both Cowboys fans and Terrell Owens felt it was poor journalism by Werder. I agree and feel that you can't publish and broadcast a story the way ESPN did unless it's more substantiated. In fact, Deion Sanders told the 2 Live Stews on Sporting News Radio that he feels Werder fabricated the story:
First of all, there isn't an "unnamed source." I just got off television with Jason Witten. You would have thought one of the unnamed sources was Jason Witten or Tony Romo. It wasn't an African-American unnamed source — it's not going to happen. I talked with different persons in the Cowboys organization, they are so upset with Ed Werder for his reporting and [the way] he was conjuring things up, trying to make up a story. First of all, the team just had a bad year — let's not be so negative as a sports country and just assess blame. Somebody has to take the blame, and that somebody is either T.O. or the head coach — Wade Phillips — because they're outsiders."
We already know from T.O. that he thinks the story was made up, and now apparently from his conversation with Witten, Deion got the sense it was made up, too. I'm not sure who the source was but it darn well better have been concrete if you were going to use a report like that to try and ruin a team's season. Lots of parties in that locker room seemed to be pretty convinced the story is untrue.