Jay Mariotti Avoids Jail with Plea Deal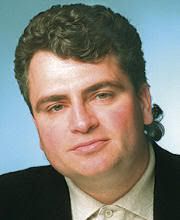 With all the schadenfreude regarding Jay Mariotti's arrest last month, it's only fair that we update the case involving the screaming head. The blabbermouth pleaded no contest to one count of misdemeanor domestic violence in exchange for the court dismissing the remaining six misdemeanor counts that included four domestic violence related counts, grand theft and false imprisonment.
Unfortunately, the jackass that is Mariotti will avoid jail and drop the soap time. Instead, he's on three years probation and required to perform 40 days of community labor. He must also complete a 52-week domestic violence course and stay away from the woman with whom he was involved. In addition to the domestic violence charges, the courts should also examine the sanity of the woman who actually dated Jay (just a matter of opinion).
When Mariotti posted bail less than 24 hours after his arrest, we said he wasn't locked up long enough. I must admit that the sports world is a much more pleasant place without him around. It's also comforting to know that ESPN has no plans to use him in the future. That's enough incentive for me to potentially lend Around the Horn an eyeball, as tough as that show is to endure.