Baseball Needs Instant Replay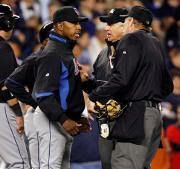 Sure it helps that ESPN has been brainwashing me with constant replays of every single questionable home run call over the past week, but hey, I've felt strongly about this subject for a long time. I'm not saying we should review pickoff plays, dropped third strikes, balk calls, whether or not a batter went around, and certainly not balls and strikes, but come on, when it comes to a call that changes a ballgame by anywhere from 1-4 runs, we need to get it right. This really came to my attention last year when I wrote about Rockies' manager Clint Hurdle getting upset over some of the unfavorable calls his team had received. I thought about it then and feel even more strongly now that just to review whether or not a ball went out of the park, instant replay is a useful tool.
I just can't even fathom why the unimaginative purists would want to keep the game free of instant replay. Why, will it slow a game played at Bengie Molina-like speeds by 150 seconds? Oooh, that's just too much for us to handle. Big deal — the people in the crowd pop open their phones to blast off a few texts and catch up on some scores around the league on their blackberrys. What's the problem? Isn't it worth it to get it right when it's something that significant? Moreover, all you need is two minutes reviewing a potential home run ball to get the call right. It's not like in football where you can deliberate and still get a call wrong because of funny angles and stuff; this is pretty easy, if the ball clears the yard, it's gone. Then again, I'm not really sure why I'm ranting to you about this — it's probably the people who still haven't warmed up to the idea of computers that are against instant replay in the game, anyhow.