Mets Curse Strikes: Frankie Rodriguez Collapses Because of Back Spasms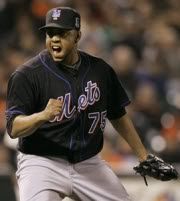 The moment Frankie Rodriguez signed with the Mets I knew things wouldn't end well. I'll admit they have started out well on the field considering K-Rod has gone 12/12 in save chances, tying for the major league lead. Well if it wasn't the bats of the Braves, Phillies or Marlins that struck him down, perhaps it was the stroke of God. Frankie endured a difficult and scary situation on Saturday:
Rodriguez suffered the back spasms — the first of his career, he said — while running in pregame warmups and was unavailable to pitch the ninth inning. J.J. Putz closed out the game in K-Rod's place.

The Mets gave Rodriguez muscle relaxers before the game, but he collapsed shortly after waving off help from trainer Ray Ramirez and trying to leave the clubhouse under his own power.

The Post observed Rodriguez weeping from the pain after being helped into a golf cart, and a stretcher and emergency medical technicians were called to the scene.
Dude, if Frankie wound up freaking crying, you know these back spasms were a serious deal. I really feel bad for the guy. This really sounds scary and dangerous — I bet he'd trade the spasms for his ankle injuries of last year any day. I'm telling you, the Mets are freaking cursed. Nothing ever works out as planned for them. Hopefully Frankie gets better — he'll still always be an Angel even if he's wearing a Mets uni the next few years.