Dan Majerle: No as Suns Head Coach, Yes as Assistant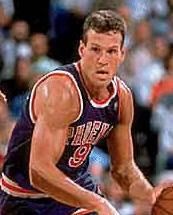 With the news of Mike D'Antoni (no apostrophe necessary) going to the Knicks, that leaves the Suns with a nice big vacancy at their head coaching position. Veterans like Rick Carlisle, Scott Skiles, and my buddy LB are off the board, so who's left for the Suns to pursue? That's been a big question, and one name that has appeared as a potential replacement is former Suns player, Dan Majerle. Well much to my surprise, Majerle was a guest on FSN Arizona's telecast of the D-Backs/Rockies game Tuesday night in the top of the 5th inning. Daron Sutton wasted no time getting to business asking if Majerle would be the next coach of the Suns and who he thought were candidates for the job. Majerle's response:
In a word, no. At this point in my life I am not interested in being a head coach. I would not say that I would not want to be an assistant or some kind of assistant for the Suns. I would entertain those kind of ideas because I always thought maybe I could be a good coach.
…
I know that Jeff Hornacek has surfaced, Marc Jackson has surfaced, a couple of assistants — the guy from Boston — guys like that.
Jeff Hornacek? Where'd that come from? And it sounds to me like Majerle could become a head coach in time and that he could wind up on the staff at some point. Majerle also said that he was against the Shaq trade because he wanted to see the team get another chance to win the title since he felt they were so close. We agree on that point, largely because I didn't see any positives to adding Shaquille. So to answer those questions, Majerle behind the bench is a possibility, just not as head coach.