Gilbert Arenas Got Off Too Easily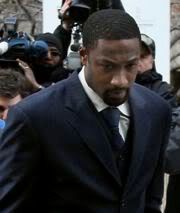 In the wake of Washington Wizards star Gilbert Arenas' court sentencing, I would like to know when athletes will learn that they are not above the law. Time and time again we see the same thing happening — either someone is using drugs, taking risque photos, or they are getting into trouble with guns.
It might be just me, but I don't think Arenas' punishment fit the crime. Arenas' sentence includes 30 days in a halfway house, 400 hours of community service, and two years of probation. Not bad for a repeat offender who tries to brush all issues aside by saying he's just joking. He brought guns — you know those things that could kill someone — into a locker room and threatened his teammate over a few hundred dollars. Are you kidding me? Arenas had, and let me emphasize that, HAD an $111 million contract. And he was either willing, or stupid enough to jeopardize that over a few hundred dollars? Who really knows if he'll ever see that $111 million again, because if I were running the Wizards, I sure wouldn't want to give it to him. I'd fight to void that deal.
Arenas isn't the only one who has been this idiotic though. I mean he's had a lot of examples to look at. There's Bengals defensive tackle Tank Johnson, who while a member of the Bears, risked the opportunity to play in the Super Bowl because of his affinity for guns. Of course Tank wound up being allowed to play in the game, so no one learned a lesson there either. Compared to Arenas and Johnson, former Giants wide receiver Plaxico Burress almost literally shot himself in the foot and was actually severely punished. After seeing that example, I don't know how Arenas wasn't more careful. The light sentence he received probably won't do much for Gilbert changing his behavior. Something more should have been done because he got off too easily.
Sources:
Arenas sentenced to halfway house for felony gun charge [Sports Network]