Magic Letting Donovan Off the Hook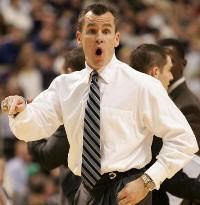 According to a report from the Orlando Sentinel as of early Monday morning.
The Orlando Magic today will allow Billy Donovan out of his 5-year, $27.5 million contract that he signed on Friday.

"It's over," said a source close to the situation.
…
Unless Donovan wakes up today and changes his mind, the Magic will let him go, the source said.
Yeah, they'll let him go it says. But what the report does not mention is whether or not there will be any financial retribution owed by Donovan. The confusion comes in depending on which report you believe. According to Andy Katz of ESPN, Donovan actually signed the deal on Friday for $27.5 million over 5 years. Jeff Goodman of foxsports.com cites an AP report that the contract was only agreed upon, not signed. If you go with Goodman's report, it will be much easier for Donovan to head back to Florida. If you go by Katz's report, he'll have to come to a financial agreement in order to leave Orlando.
Here's where I stand. If you're the Magic, you're certainly pissed, but you have to let the guy go. You can't force a man to stay and coach if he does not want to be there. However, you did sell over 200 season tickets the day he was signed, and you were also delayed by a week or so in your search for a new coach based on the belief that you had found your man. So Donovan definitely owes the Magic an inconvenience fee. Luckily Orlando has plenty of time to make their next move (which appears to be Stan Van Jeremy Gundy). Heck, if divorcees get compensated for marriages that last only a day, then so should basketball teams.