Smush Parker Struggles With Valet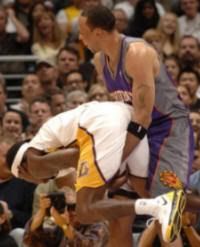 The ubiquitous SpinMax, who also happens to be the biggest Oklahoma fan in the world this week, emails in with this great story. Not to be outdone by Chris Henry, Heat guard Smush Parker got involved in an altercation with a valet parker this week.
Yomaira McKenzie, 41, said Parker "lost it" Tuesday morning when he was asked to pay the $12 valet parking charge he allegedly owed at a condo building at 355 Biscayne Blvd. McKenzie is an assistant manager at Standard Valet, which services the building.

According to a Miami police incident report, Parker, 26, claimed he had paid the fee in advance a night earlier. He said he did not have any available cash to pay Tuesday.

Tension apparently escalated when Parker, denied his keys until he settled the debt, allegedly pushed a valet podium and grabbed McKenzie's arm in an attempt to get his keys, according to the incident report.
As someone who never carries more than $20 in their wallet at any given moment, I feel for Smush. But come on, is that really a reasonable way to react to the inability to pay a fee, even if you had paid it the previous night? Violence is not the answer to all life's problems, Smush. On the bright side, at least he didn't go to the "don't you know who I am?" card.
(photo from Flickr)