Reflections on the Loss to Memphis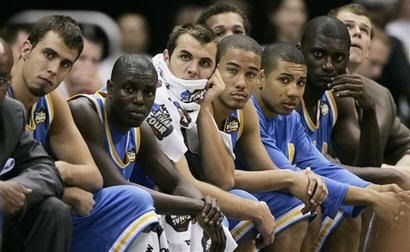 I would consider myself quite a practical-minded fan; I'm involved and interested, yet tempered in my levels of fanaticism and enthusiasm. I don't throw stuff when my team loses, nor do I let it ruin my day, week, or year, nor let it serve as a blow to my self esteem. All this being considered, I think I have a fairly level-headed reflection on the loss to Memphis.
I was truly disappointed; in so many ways this was supposed to be UCLA's year. After coming up short the last two seasons — arguably better than every team in the country except one — there was no true powerhouse standing in our way. What we didn't have those two seasons we finally had — some size — a center, potentially the best big man in the country. We got some favorable calls towards the end of the regular season that allowed us to get a No. 1 seed in the West Region. Our draw was clearly the easiest — we had by far the weakest of the two, three, and five seeds in our bracket. Everyone was riding the Bruin bandwagon as they became the popular pick to win it all. In so many ways, everything was aligned for UCLA to win the title.
All season long, the Bruins were a second half team. What did that mean? That they underachieved in the first halves of games? That they were sleepwalking and not maximizing their talent? Or that they were natural winners and wouldn't lose even in games they were supposed to? I'm not sure. I do know that the entire season I said there was going to be a time when we would fall behind and not be able to come back (much like I've said about Memphis' free throw shooting coming back to haunt them). UCLA took Memphis' best shot in the 1st half and still was only down by three at the break. UCLA was still in the game in the 2nd half and had the chance to win all along.
They had Dorsey and Taggart in foul trouble in the first five minutes of the 2nd half. If they pounded the ball inside to Love — their best player who was completely underutilized in the game — they could have fouled Dorsey out and had their way with Memphis the rest of the game. If one or two of their three pointers over the last eight minutes had fallen, it would have been a one-possession-game in which UCLA could have taken over, much like the Texas A&M game. The Bruins were 0-7 from long distance in the first 18 minutes of the 2nd half. And what I still don't understand and can't comprehend is why UCLA ran with Memphis, playing their style of ball. Westbrook does well in that style, but quick possessions suit Memphis better than UCLA; it's in our best interest to hold onto the ball for 30 seconds, not five, allowing them to get fast break baskets which they killed us on. I'm still wondering how the coaching staff allowed that to happen, unless that was part of the gameplan, in which someone misjudged the situation completely. I'm also wondering why Collison was matched up on Rose for so long rather than Westbrook. Talking about the game on Friday night with my buddy Rey, we decided that having Westbrook on Rose the whole way was the best way to go — we didn't, and we got burned. It's just really frustrating when you're watching the game and seeing these things happen yet the team isn't making the adjustments.
While I give Memphis credit for dictating the pace of the game and Rose and CDR for making so many of their shots and free throws, I cannot in all sincerity call Memphis the better team. I do not believe that is the case. I believe they had their way with UCLA, but the Bruins were two poor game-plan decisions away from winning, not to mention a three pointer or two. Additionally, what business does Shawn Taggart have making all those outside shots? That was his first three-pointer made of the tourney. He doesn't make those ridiculous shots and it's a tight game that we probably win. Memphis' bench wasn't better; it only appeared to be better because their heaves went in.
In all, I think UCLA underachieved by losing this game. I feel it was completely winnable. I'm not accepting that Memphis was the better team — I saw them lose to Tennessee and I've seen their vulnerabilities. I think we had a poor gameplan and didn't make good in-game adjustments. However, I do believe the season was a success and that the team has produced remarkable results by reaching three straight Final Fours. We could have easily have been bounced earlier in the tourney any of the last three years and just have been another sweet 16 team. But we're not. We're a 30-win, Pac-10 winning, Final Four making program. That's exactly what I was asking for when I wanted Lavin fired, and that's exactly what we got. And honestly, that's pretty incredible these days with the way players come and go. Ben Howland has worked wonders with the program and Bruins fans can't be anything less than ecstatic with where we are. It's only a matter of time before they win that 12th banner. And who knows? Maybe the program will be better off in the long run for having endured this loss — maybe Love stays, maybe the coaching staff learns a few lessons, maybe they become hungrier to win in the future rather than complacent from winning a banner. There were plenty of positives for the season and I can't wait for next year.