Bill Belichick Offers Advice to Urban Meyer on Blowing Teams Out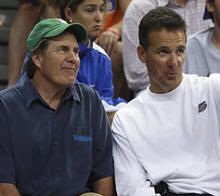 Convenient that two pretty certified jerks are good friends inside the football coaching circle. Think about it: Bill Belichick and Urban Meyer have a lot in common; Belichick used to run up the score last year, Meyer's doing it this year. Naturally, after seeing Florida blow out South Carolina Saturday, Belichick had some words of advice for Meyer on handling his players:
Who knows better than Belichick what it's like to have a team that's dominating opponents, and making it look easy in the process? And who knows better how the hype that accompanies being ranked No. 3 and remaining in the national title hunt can adversely affect a team?

"I had a very nice call from Coach Belichick, and he said just make sure you stay on top of them because they are going to be hearing how good they are," Meyer said Sunday morning. "When you watch film, we still can be a lot better."
Will Belichick counsel them on advice prior to the National Championship game should the Gators reach that point? Interestingly enough, Meyer was also pressured to answer a question whether or not Utah (currently undefeated and where he coached prior to Florida) deserved a shot at the title game ahead of a one-loss Florida team. No way they do, but it sure puts Meyer in a bad spot to answer the question. And we all know what the answer is, of course.
(via Ben Maller)