Chip Kelly on Arrests: We're Embarrassed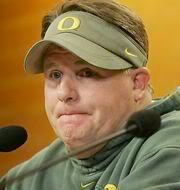 Oregon coach Chip Kelly took the stage on ESPN's Outside the Lines Tuesday to face the firing squad. Reporter Bob Ley offered Kelly the opportunity to discuss the state of his program and pressed Chip with difficult questions. When forced to answer for Oregon's disruptive offseason that includes several arrests, Kelly defended the way he's handled things:
"If people want to pile on me, if people want to hit me, fire away. But I love my players, I'm going to stick by my players. But if they do something wrong, they understand that they will have to pay a price for doing something wrong. Our job will continue to be to educate them every single day about the right things to do and the wrong things to do.
…
I'm embarrassed. Our football team is embarrassed. We represent an outstanding university and that's not how we do things and that has to stop."
Kelly also said that the off-field activities have tarnished the accomplishment of reaching the Rose Bowl which is pretty accurate now that the program has become a punchline. The main question is whether the multitude of arrests and issues indicates a lack of control of the program by Kelly. The other question is if Kelly is properly disciplining his players.
At this point I'd be inclined to say that Kelly does have control over the program but either he or former coach Mike Bellotti recruited some poor character guys who are making them look bad. And as far as disciplining the guys I think Chip is taking the proper approach in viewing things on a case-by-case basis. The only difference is I would take a harsher stance towards my player based on the crime they're accused of — theft is less severe than domestic violence and strangulation so I would suspend accordingly. If this sort of activity persists then the university needs to put its foot down regarding the type of player the school is recruiting. If things turn around then the issues can be attributed to a really bad and embarrassing offseason. Bottom line is Kelly needs to send the message that this sort of behavior won't be tolerated and that's accomplished by kicking players off the team and suspending. He's already done both.