Georgia Football in Midseason Form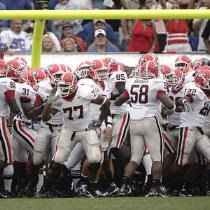 Perhaps one of the best leads to an article I've read in a while came today: "The first clear signal the offseason has begun for Georgia football has arrived: Two Bulldogs football players were arrested and jailed early Sunday morning." That was from the Atlanta Journal-Constitution. It's the third straight January or February where Georgia football had a player arrested. Nice. They're almost on par with the Bengals. The offenses:
University of Georgia police arrested cornerback Donavon Baldwin, 21, for improper driving and driving under the influence at 3:05 a.m. Sunday.

Fullback Fred Munzenmaier, 19, was arrested 34 minutes later by university police for underage possession of alcohol and being a pedestrian walking in the roadway.
Hardly seems like a crime to me, well, except for the driving part. I feel for Fred though he should be aware of the difference between an Athens street and the Las Vegas strip. Then again, when your coach choreographs an on-field celebration post-touchdown requiring all the players to storm the endzone, you can't expect much different behavior from the players.