Chad Ochocinco's Relationship with Cheryl Burke Ruins His Dating Show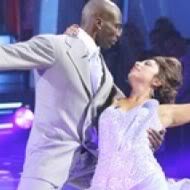 Bengals wide receiver Chad Ochocinco (he does still play football, doesn't he?) planned one of the busiest off-seasons we've seen for an athlete lately. Ocho booked himself a spot on Dancing with the Stars (angering me in the process) and landed a dating show on VH1 where 85 women vie for his love. While Chad probably figured that he had struck gold with his dual shows, he admitted the dating show — Ochocinco: The Ultimate Catch (or Perfect Catch, I've heard both) — has unfortunate timing because of his interest in his dancing partner, Cheryl Burke.
Chad and Cheryl have apparently become quite affectionate towards each other and Ocho even bought her a $10,000 diamond ring. The two have denied that they are dating but Chad is making it seem like he's not interested in anyone else. Here's what he said on Live with Regis and Kelly when asked about his new dating show:
Unfortunately, this was already in place before I did Dancing with the Stars, before I met Cheryl. If I wasn't doing that, she would have probably been the one."
Not that I would ever watch such pointless drivel, but I have to imagine that this is the last thing the producers at VH1 wanted to hear. They gave Chad his reality show thinking he would play the role of the ultimate bachelor. What good is his dating show if he's already taken? The two probably are dating but they just can't reveal it otherwise it would officially make the dating show a sham. I'm just hoping his new lady, whether it's Cheryl or some VH1 skank, has a Kate Hudson-like effect on him.