Watch: Aaron Jones somehow dropped the easiest touchdown pass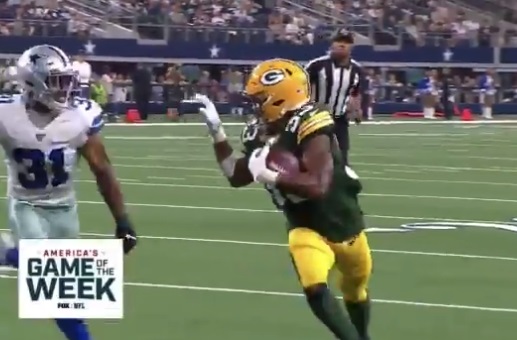 Aaron Jones had a huge game in the Green Bay Packers' Week 5 win over the Dallas Cowboys, but he didn't exactly carry that over into Week 6.
Jones had an absolutely ugly drop on a perfect pass from Aaron Rodgers that should have resulted in a touchdown for the Packers in the second quarter Monday night against the Detroit Lions. Take a look at this horrible drop:
Next time, Aaron Jones should try catching the football, I think. #Packers #MNF #DETvsGB pic.twitter.com/P4KnITv6mX

— Billy Heyen (@Wheyen3) October 15, 2019
That should have been a 33-yard touchdown catch for Jones. The Packers continued to possess the ball and probably should have been limited to three points, but a dumb penalty by the Lions helped them extend the drive. They ended up scoring a touchdown anyhow.
Jones had scored in four straight games entering Monday night, including a 4-touchdown outburst against Dallas where Jones did some taunting on the way into the end zone.