Bill Maas and Michael Irvin Should Broadcast NFL Games Together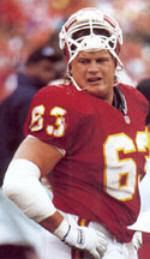 Don't you think they would make a great team? If nothing else, they would sure be able to relate to the current players. Irvin was caught for a traffic violation in '05 and a crack pipe (which belonged to his friend of course) was found in the car. Whatever Irvin did, Maas sure blows away. I mean Bill Maas is up there with Orlando Cepeda. Check out the laundry list of Maas' paraphernelia found when he was pulled over Saturday night. Seriously, this guy could've kept a small college occupied for the night.
Police say Maas seemed nervous so they asked to check his car.

He gave them permission to do the check and that's when police found a loaded 22-caliber revolver hand gun, 5 grams of cannabis, 6 grams of cocaine and 28 ecstasy pills.

Maas was arrested on felony drug and felony weapons charge.
Putting aside the loaded gun — which I'm sure was just for kicks — look at all the freaking weed, blow, and ex he had on him. That is incredible. Where was this guy coming from, a rave? 45-year-old men, regardless of how high or low profile they may be, should not be rolling with that type of heat. That's just wrong.