Brett Favre and Agent Bus Cook Meet with NFL, Wisely Avoid Media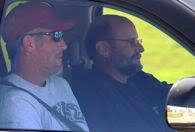 The moment of truth came for Brett Favre on Tuesday. Not really, but it was fun to say it anyway. Number four met with NFL Security vice president Milt Ahlerich to discuss the allegations that he sent sexually explicit picture messages and left voice mails for former Jets employee, Jenn Sterger. The meeting took place in Winter Park, inside the Vikings' practice facility.
If you wanted to know how it went, don't count on an answer from Favre or his agent, Bus Cook. According to the Star Tribune, "Bus Cook left Winter Park driving the same car that Favre arrived in Tuesday morning. Reporters waiting outside did not see Favre in the vehicle, but Cook's presence means it's obvious the meeting took place inside Winter Park."
It's possible that Favre was ducking down in the car to avoid the media, but we can't really be sure. What we do know is that the NFL might have a tough time suspending (or punishing) Favre if they don't have any cooperation from Sterger. If Favre admitted to sending the pictures, voice mails, and MySpace messages, then he'd be in trouble. But without Sterger's side or cooperation, the NFL would have a tough time proving anything.
You may be asking why Sterger won't cooperate with the league's investigation. My guess is she's holding out for a $ettlement from Favre, considering the investigation is her leverage. See, the last thing Favre wants is to be punished by the league. It would be prudent of him to pay her some money to go away and never talk about the incident again. That's probably what will end up happening if it hasn't already.