Fred Taylor Is Sick of Reggie Bush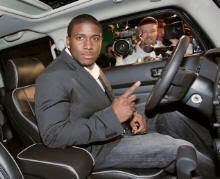 No, this isn't some elaborate quote of Fred Taylor running his mouth because the Jags are facing the Saints this week. It's something small, that probably went unnoticed by most. In the latest issue of Sports Illustrated, Fred Taylor was one of the four athletes quizzed in the "Pop Culture Grid." One of the topics was "Most annoying TV commercial." Fred didn't pick on an AFLAC or Dr. Scholls commercial like some of the other players. Oh no. Instead, Fred got creative. His response:
I am tired of seeing Reggie Bush.
Pretty harsh words, if you ask me. Fred clearly is a man who keeps score of commercials and endorsements. He's had a wonderful NFL career, and judging by his lack of Pro Bowl appearances, he's flown under the radar for most fans and pundits. It obviously stings him to see an inferior player who's done nothing of note in the league getting all kinds of attention. Funny enough, it looks like Fred isn't the only person getting sick of Reggie Bush, who is no longer the golden child of the NFL.