Albert Pujols Moved to Cleanup Spot, Did Tony LaRussa Follow Writer's Advice?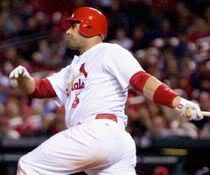 With baseball players changing teams and falling in and out of slumps, there have been very few constants regarding a player's spot in the batting order the last several years. Matter of fact, only two come to mind: Ichiro leading off for the Mariners and Albert Pujols batting third for the Cardinals. The order to the St. Louis Cardinals universe as we know it was shifted on Monday night when Pujols slid to the cleanup spot for the first time since 2003 — a span of 1,043 straight games. The move was made to help jump start Matt Holliday who was batting .170 with runners on. When you hit behind Albert Pujols in the lineup, most of the time you'll be batting with men on, so it makes sense to see what Holliday can do in the three spot. The crazy part of this story — aside from Pujols being moved for the first time in a bazillion games — is that Post-Dispatch writer Bernie Miklasz suggested the move on Monday, as I found out through Hardball Talk:
Just wondering: are there federal, state and city laws that prohibit Albert Pujols from batting cleanup? Again, I think the Holliday body of work tells us that he'll start knocking in runs; it's a matter of time. But for conversation purposes, suppose he doesn't? Or suppose this drags on for a while? Wouldn't it make sense to flip Pujols and Holliday in the lineup? I say this for a simple reason, though it's based on small sample sizes: as a hitter this season Pujols is at his best with runners on (21 for 59, .356) and at his worst when the bases are empty (23-83, .277). Holliday is at his best with no runners on (26-69, .377) and at his worst (.170) with runners in scoring position. Holliday is getting base hits; he just isn't slugging much or delivering those hits with runners on. But if he can get on base ahead of Pujols, then the Cardinals might have something going. Just an idea. Chance of Tony La Russa implementing it: zero.
I don't know if LaRussa was convinced by this post from Miklasz or what (I'm guessing it was a combination of pressures/suggestions), but isn't it odd that LaRussa finally changed things up the same night? As expected, Pujols did just fine in his new spot — the dude would mash anywhere you stuck him — going 3-for-3 with a walk and two runs scored in four at-bats. Holliday's transition wasn't nearly as successful — he went 0-for-3 with a walk, run scored, and strikeout. Long-term you want Pujols to get as many at-bats as possible, but the numbers seem to indicate this is worth a shot for quite a few games to see if it can help the second place Cardinals produce more runs. No way LaRussa listened to a writer, right?
Sources:
Monday Bernie Bytes: 5 Opinions on the Cardinals [St. Louis Post-Dispatch]
St. Louis Cardinals' Albert Pujols batting fourth [St. Louis Post-Dispatch]
Stop the presses: Albert Pujols to bat cleanup [Hardball Talk]
Photo Credit: Dilip Vishwanat/Getty Images