Bryce Harper Goes 6-for-6 with Four Home Runs and 10 RBIs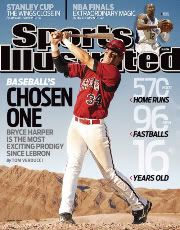 Washington D.C. sports fans have a lot of reasons to be optimistic about the future. The Redskins made strong additions, the Wizards won the lottery, the Caps have Ovechkin, and the Nats may end up with the top pitching and catching prospects in all of baseball. Already with last year's top pick pitcher Stephen Strasburg dominating in the minors, the Nats will have the top pick in this year's draft and will likely take 17-year-old catching phenom Bryce Harper who was featured on the cover of Sports Illustrated. With the kind of gaudy statistics Harper's been posting at the College of Southern Nevada, it will be hard (not to mention idiotic) to pass him up.
Harper had already hit for the cycle on Friday before busting out again on Saturday. With his team losing earlier in the day on Saturday in the double elimination tournament, they had to beat Central Arizona in order to advance to the Junior College World Series. Bryce used his bat to ensure his team's season wouldn't come to an end. Aided by 45mph winds, Bryce Harper went 6-for-6 with four home runs, a triple, a double and 10 RBIs. His team won the game 25-11 as the squads combined for 10 home runs in the second game. Proving how much of an impact the wind had on the scores, Central Arizona won the first game 21-14 and the teams combined to hit 11 home runs.
Even with the winds blowing out and aiding the offenses, you still have to square the ball up well and get some air under it to hit four home runs in a game. Think about it — 6-for-6 with 10 RBIs? That's the type of stats you only get in video games — if you're lucky. I know Bryce won't be seeing 45mph winds blowing out of the stadium at Nationals Park in D.C. but I'm sure his 29 home runs in 62 games will translate well. It's exciting times in D.C. and I'm looking forward to seeing their future stars play. And once again, the Bryce Harper legend continues to grow.
Sources:
Harper lifts CSN to Junior College World Series [Las Vegas Review-Journal]
Bryce Harper and Nyjer Morgan Show Promise, Petulance of Nationals [The Sporting Blog]